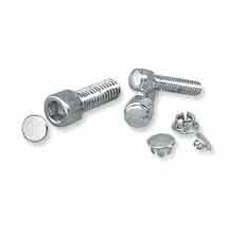 click on image for larger view
Allen Bolt Covers - Large, Chrome
Product Description
Cover your stock allen bolt heads with these distinctive chrome accented covers
Covers are easy to install and can be removed for maintenance
They also work in round holes, such as the end of drilled axles, etc.
Small fits ¼"/6 mm bolts, 5 mm hole, 10/pkg.
Medium fits 5/16"/8 mm bolt
Large fits 3/8" / 10mm bolts, 8.55mm hole, 6/pkg.
X-Large fits 7/16" - 1/2" / 11-13mm bolts, 10mm hole, 6/pkg.